Clients, Flora and John recently acquired Maryfield, a period property in the Crown area of Inverness. The home had been extended several times over the past 200 years, with some of the original interior details being listed.
Kitchen + Fitted Cabinetry. Maryfield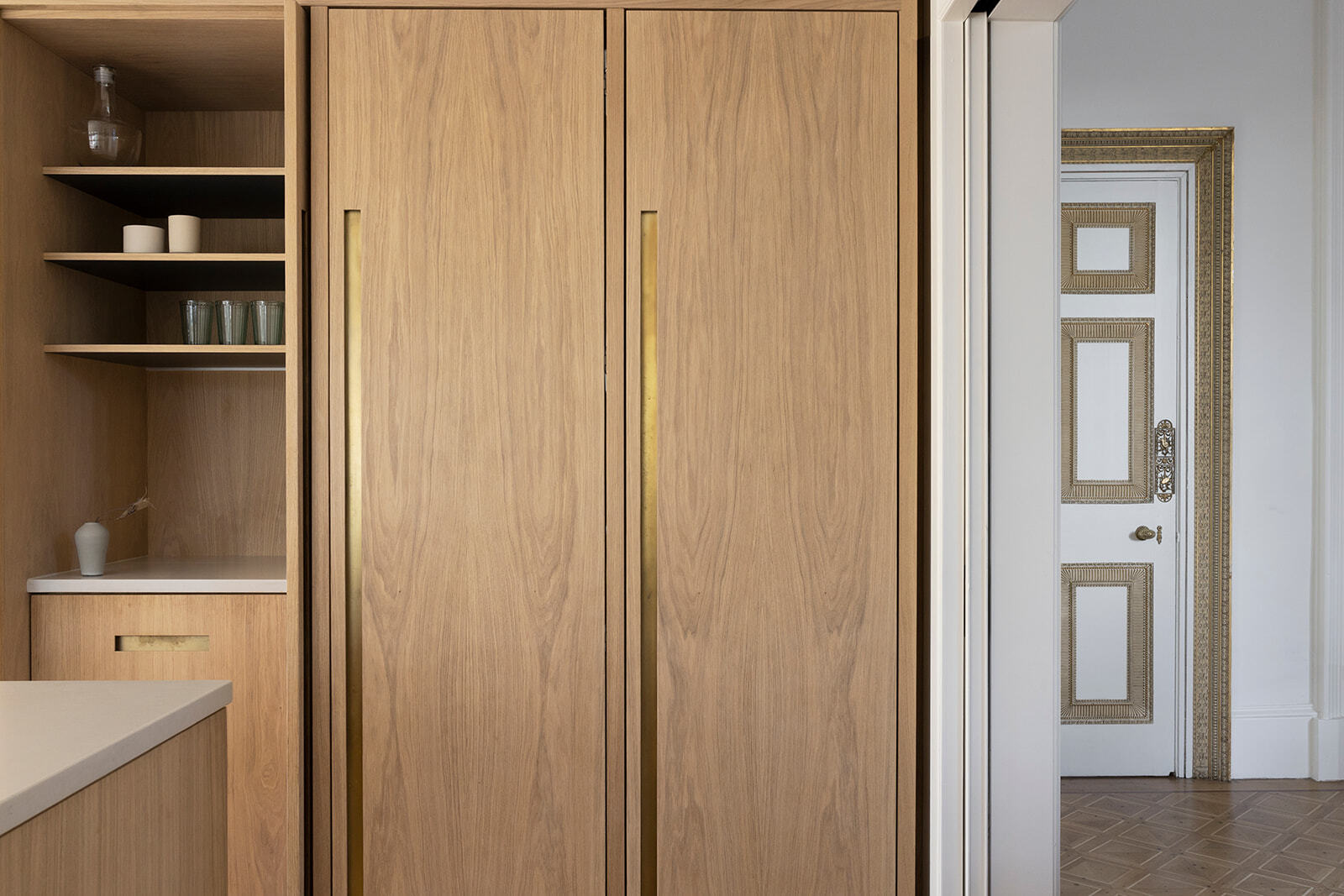 Residential

.
Brief: Kitchen + Fitted Cabinetry

.
We were approached to help realise the client and architects vision of a considered, contemporary kitchen and living space fit for a growing family.
Maryfield boasted superb Victorian oak panelling in the main hallway with secret doors concealed within the joinery. We took this as our starting point on the technical design and incorporated a secret door in the kitchen accessing the pantry, along with a whisky bar and log storage, designed to look like fixed panels.
The entire ground floor of the home had a characterful parquet floor, which required sensitive handling in order to complement the new cabinetry.
Our remit of works stretched to an advisory one, helping with the technical aspects of refurbishing and maintaining such a home. Several issues were uncovered with the structure of the floors and painstaking work dutifully carried out to replace and restore the existing timbers.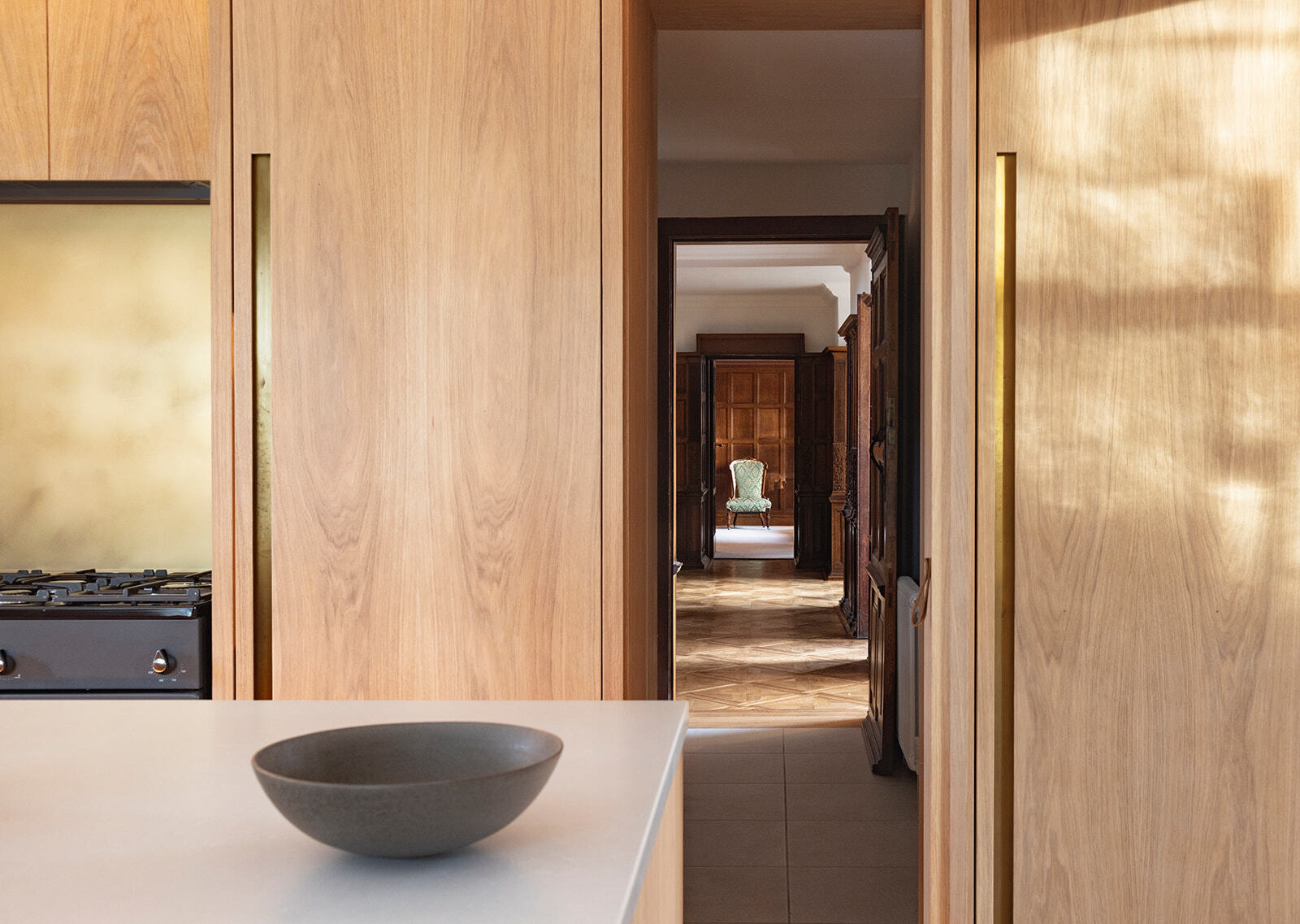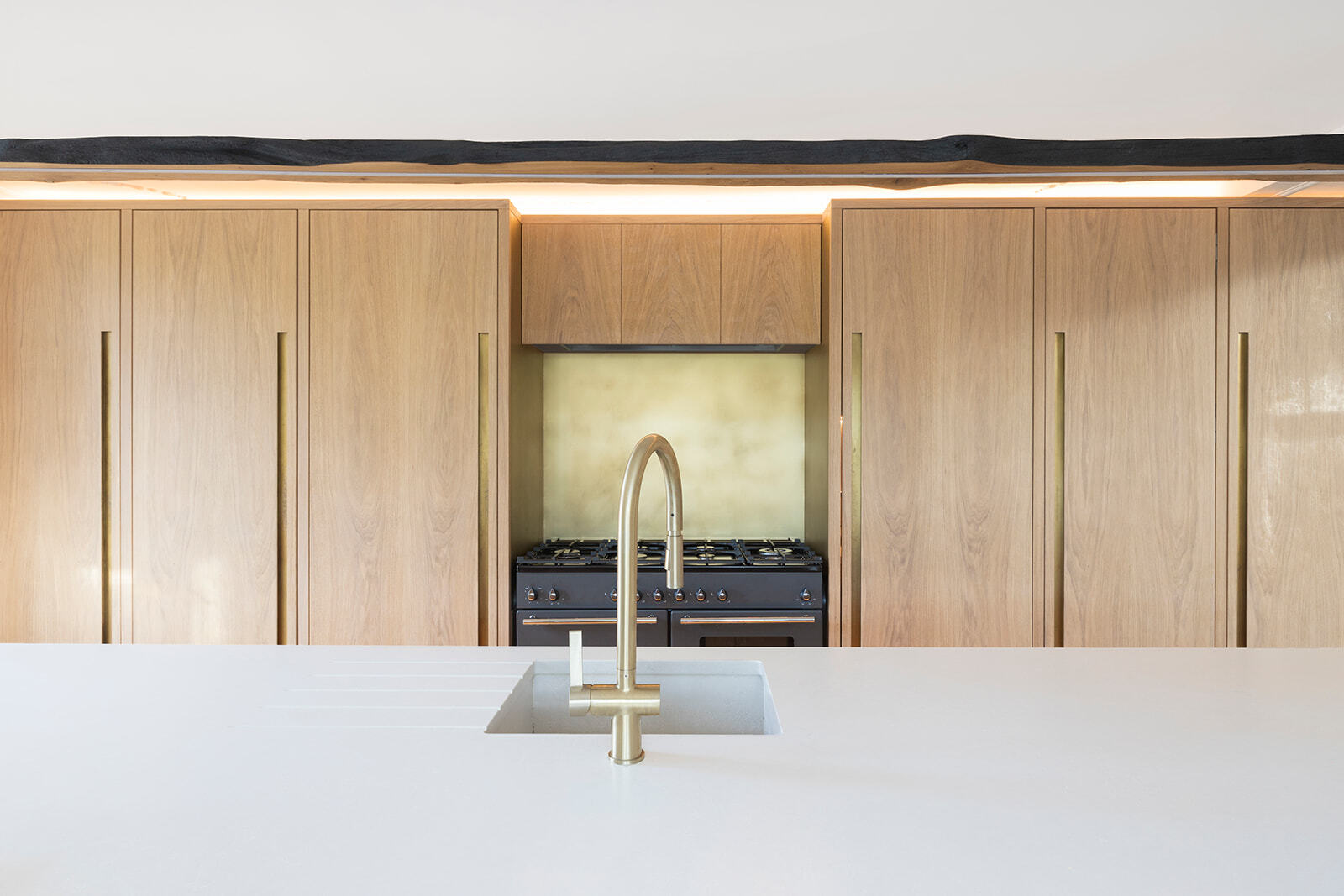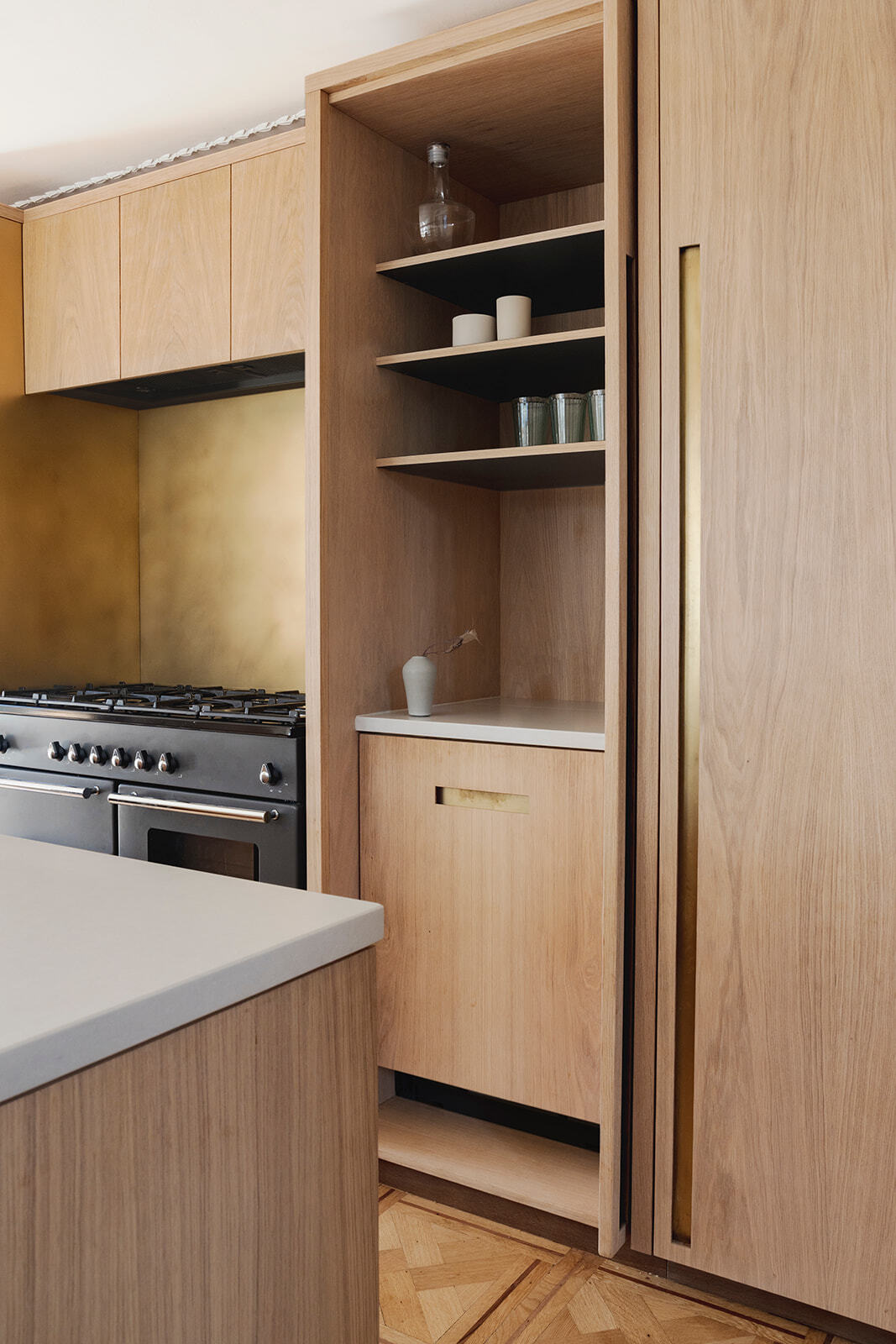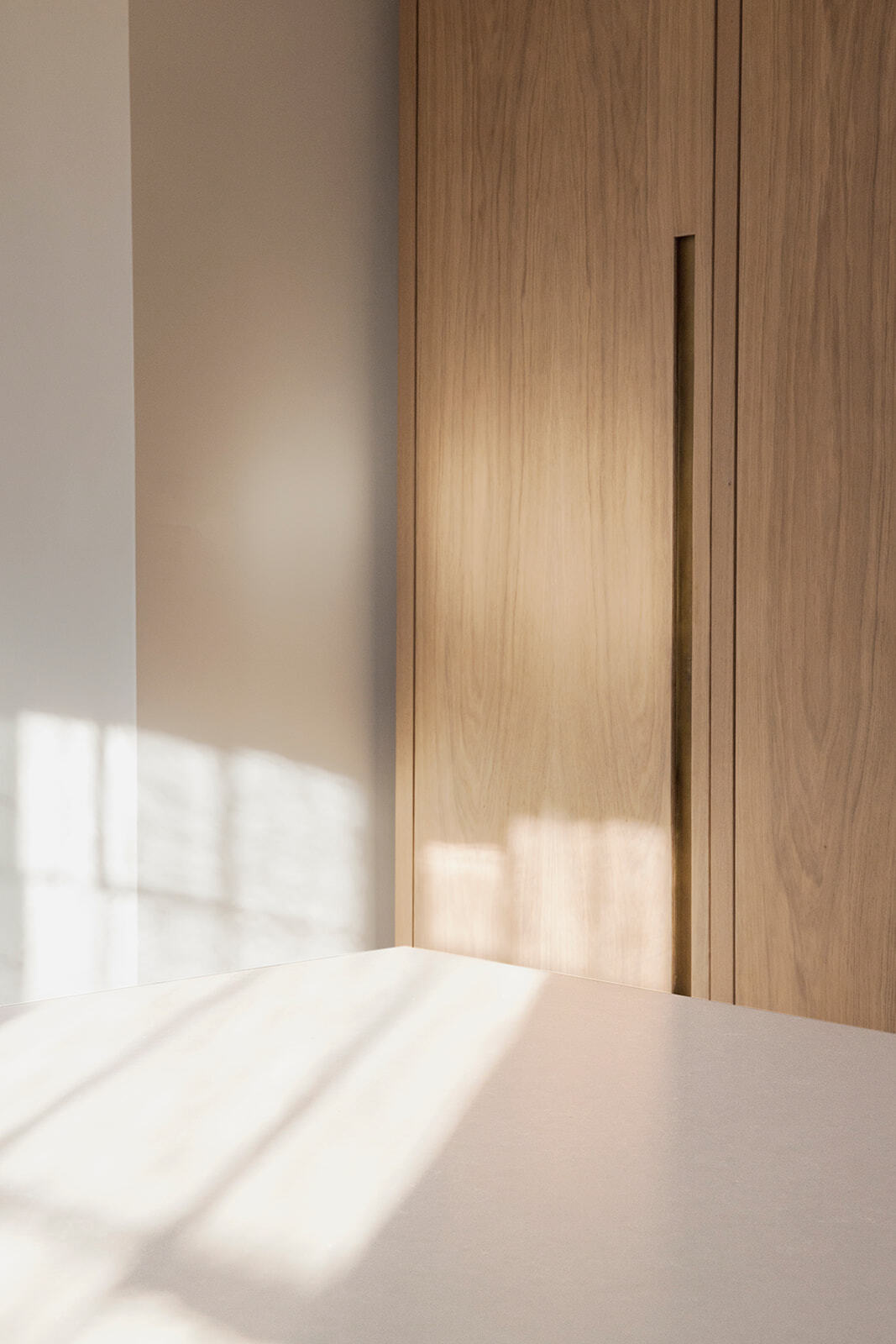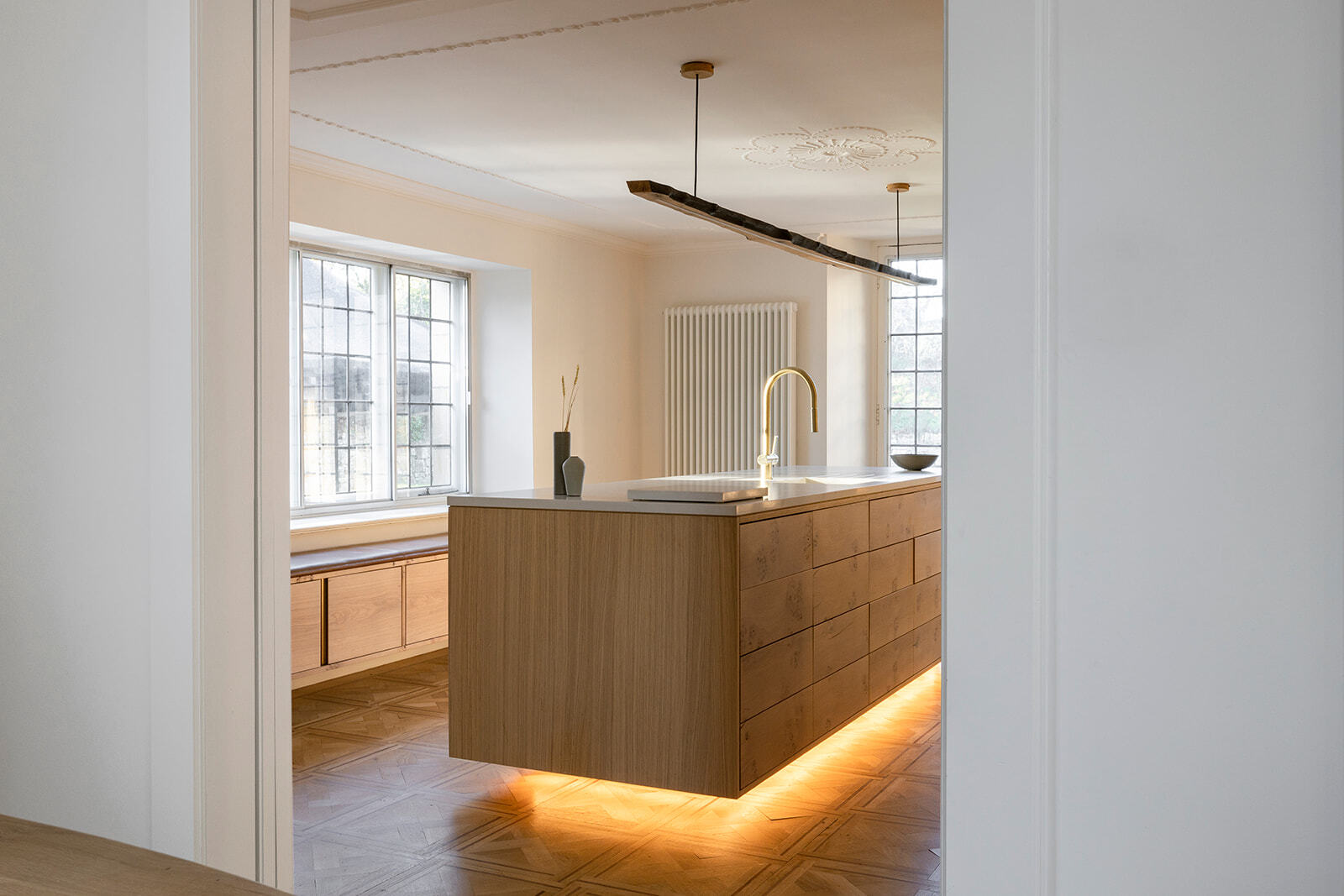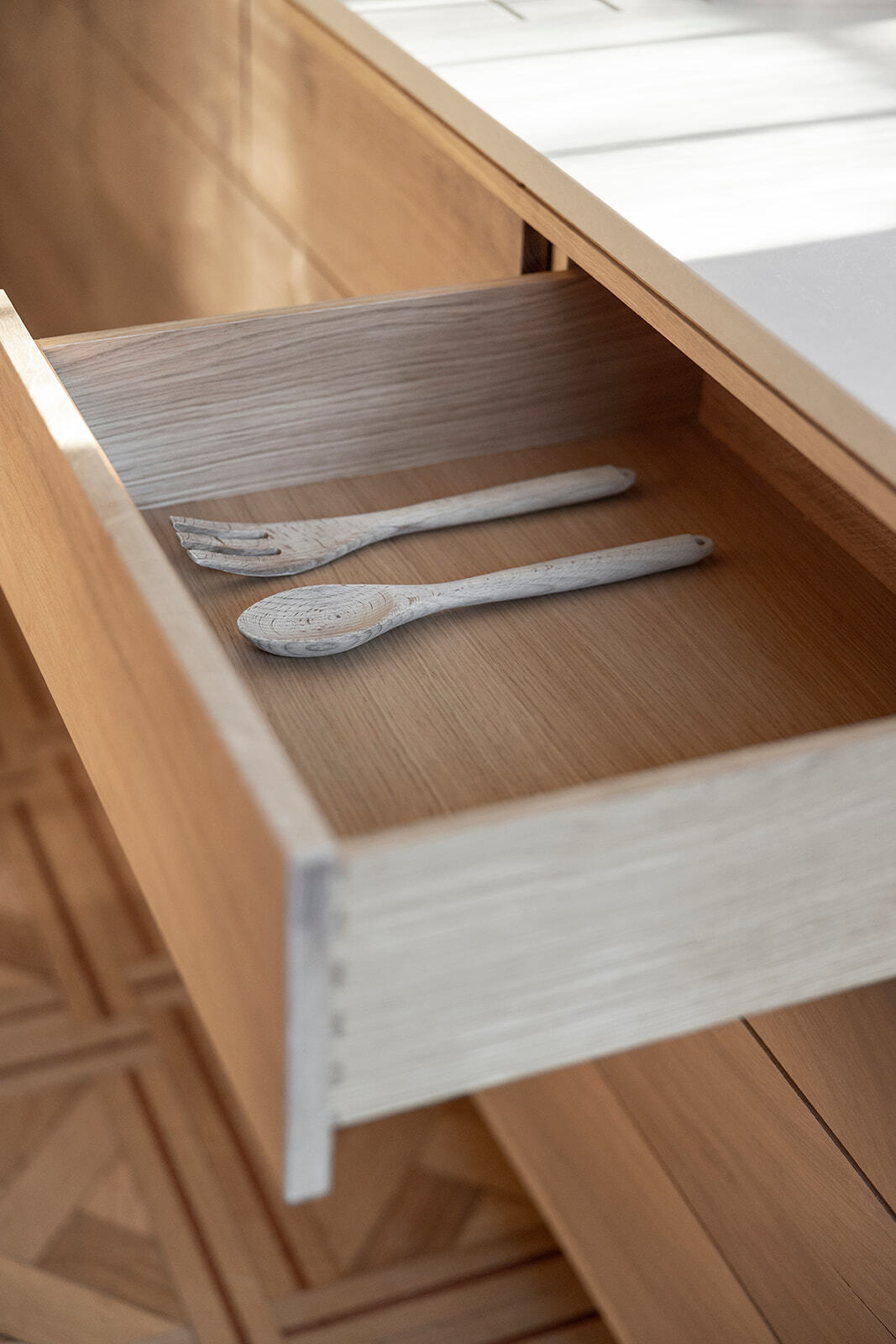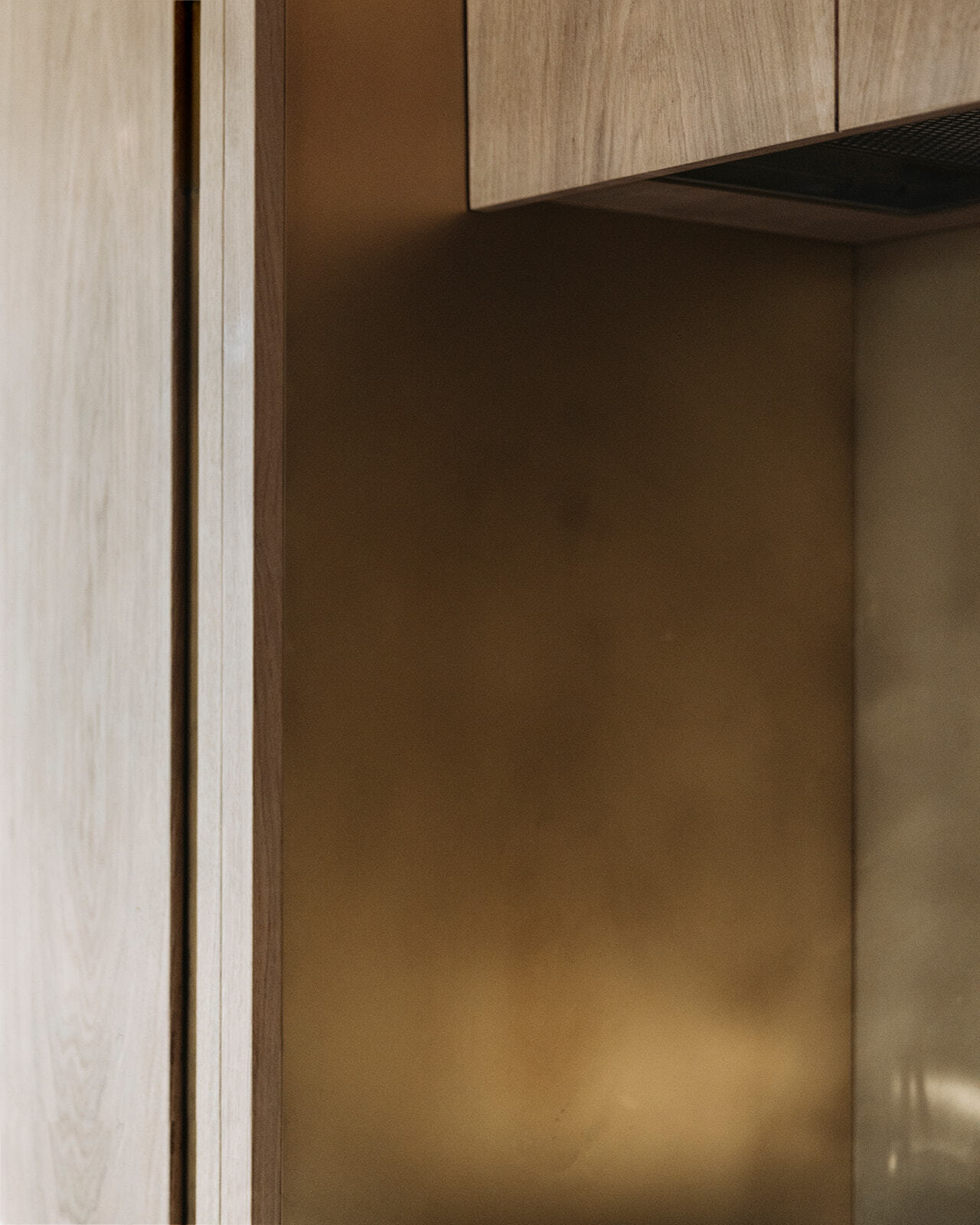 The kitchen brief challenged us to incorporate all items the clients required for a modern, functional kitchen, while designing a piece that sat respectfully in the context of the original building details.
Given the overall scale of the home, and the growing number of inhabitants, it warranted a sizeable centrepiece. We felt as a group - architect, client and contractor - that we had prepared the best solution. Drawings were prepared and sent for listed building consent which passed without issue.
The kitchen houses generous cupboard storage plus a hideaway coffee bar, full height fridge and freezer, a pocket door unit with integrated dishwasher and a secret door to the pantry, designed to match the other kitchen cabinets, and further flexible storage with green fenix oak lipped shelving.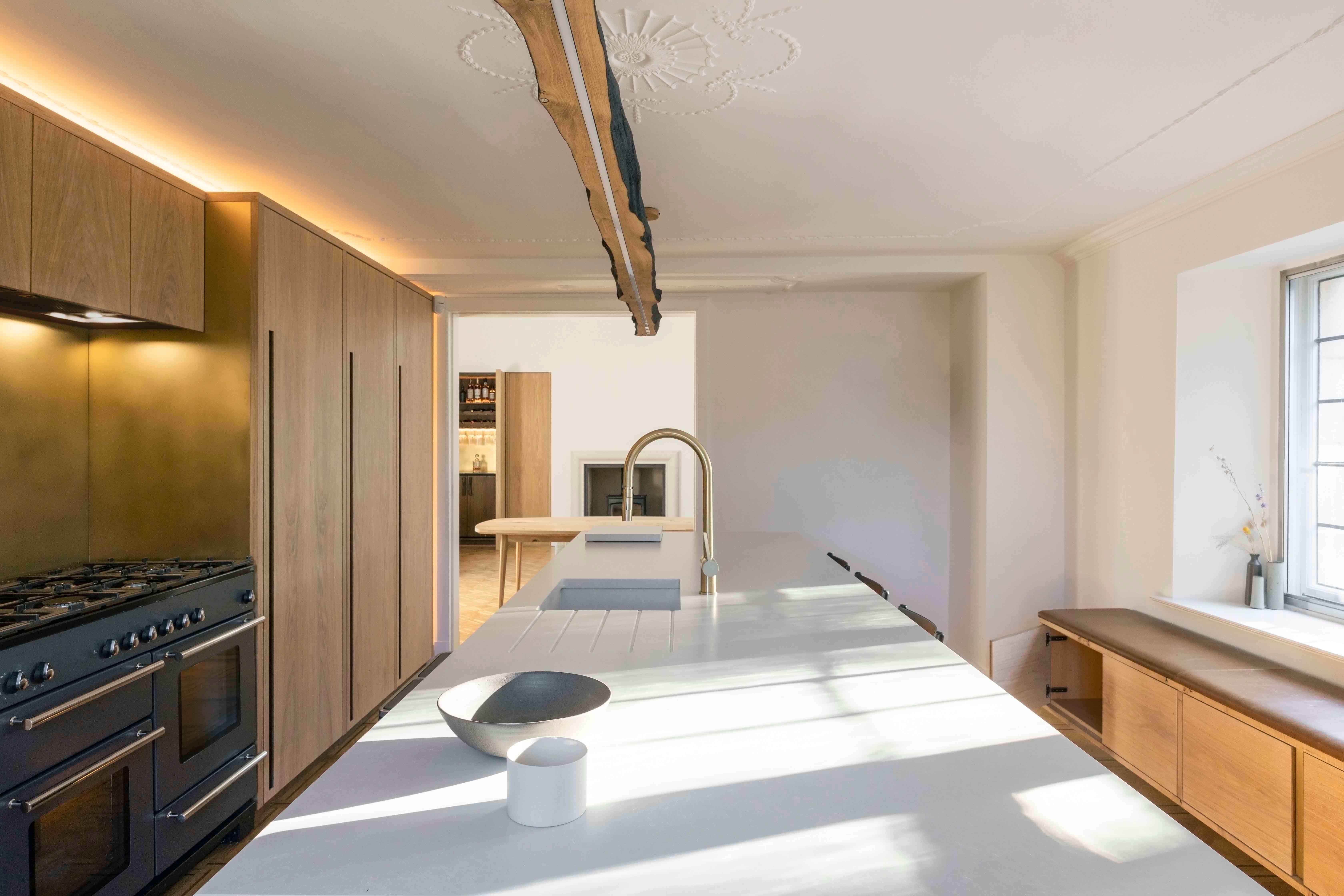 We started by creating a full sized cardboard model on site, including the large island unit to give us a sense of the scale within the low ceiling room. We highlighted the period features using subtle back lighting to show the plasterwork ceiling and parquet flooring. The island unit is drawered with Pippy Oak fronts and intentionally cantilevered to give a mass set off from the original flooring, with a window seat storage unit and leather upholstery to match.
Finally, we designed a cleft oak light with scorched long grain profile and traditionally panelled pocket doors to divide the rooms.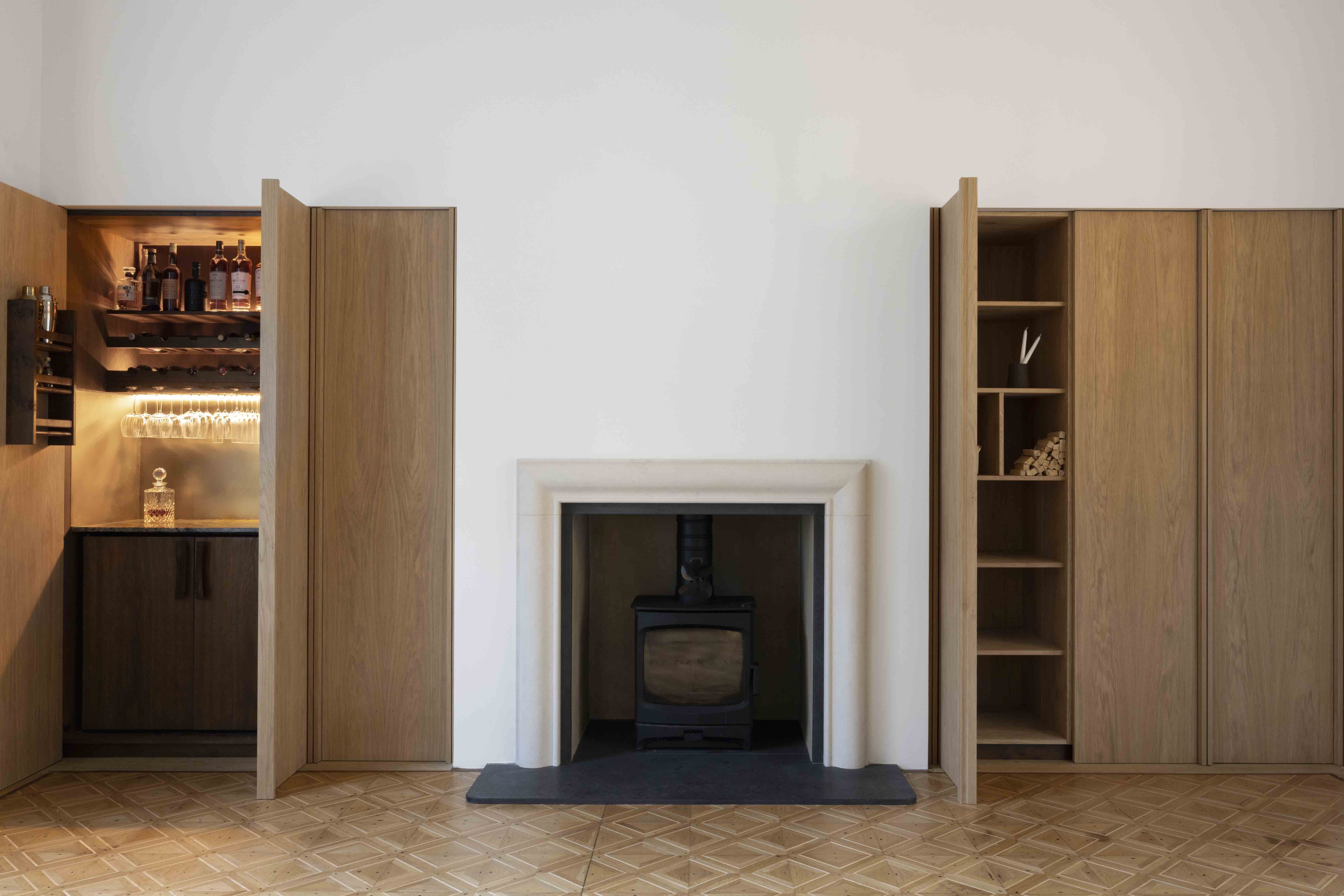 In the living area, hidden within discrete panelling, we utilised two alcove spaces. In one, we created a custom whisky bar. Using a rich palette of smoked oak and patina brass for the interior, bespoke oak fridge doors, cleft and scrubbed oak fridge handles and finished with a rainforest granite worktop. In the second, a log store and birch ply boxes allow for extra storage.
To complete the space, we built a mid century style dining table from matching oak, with the capacity for ten seats.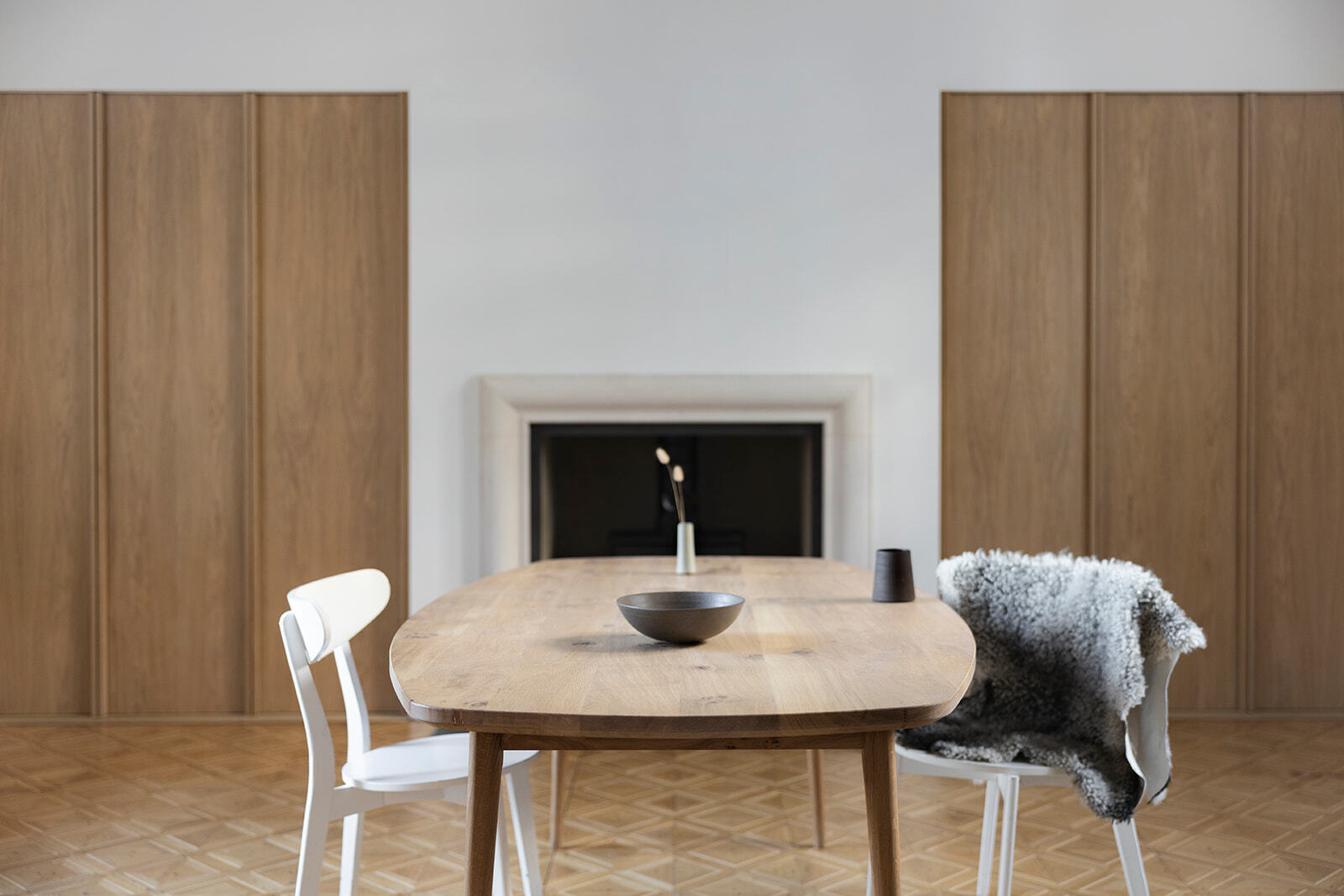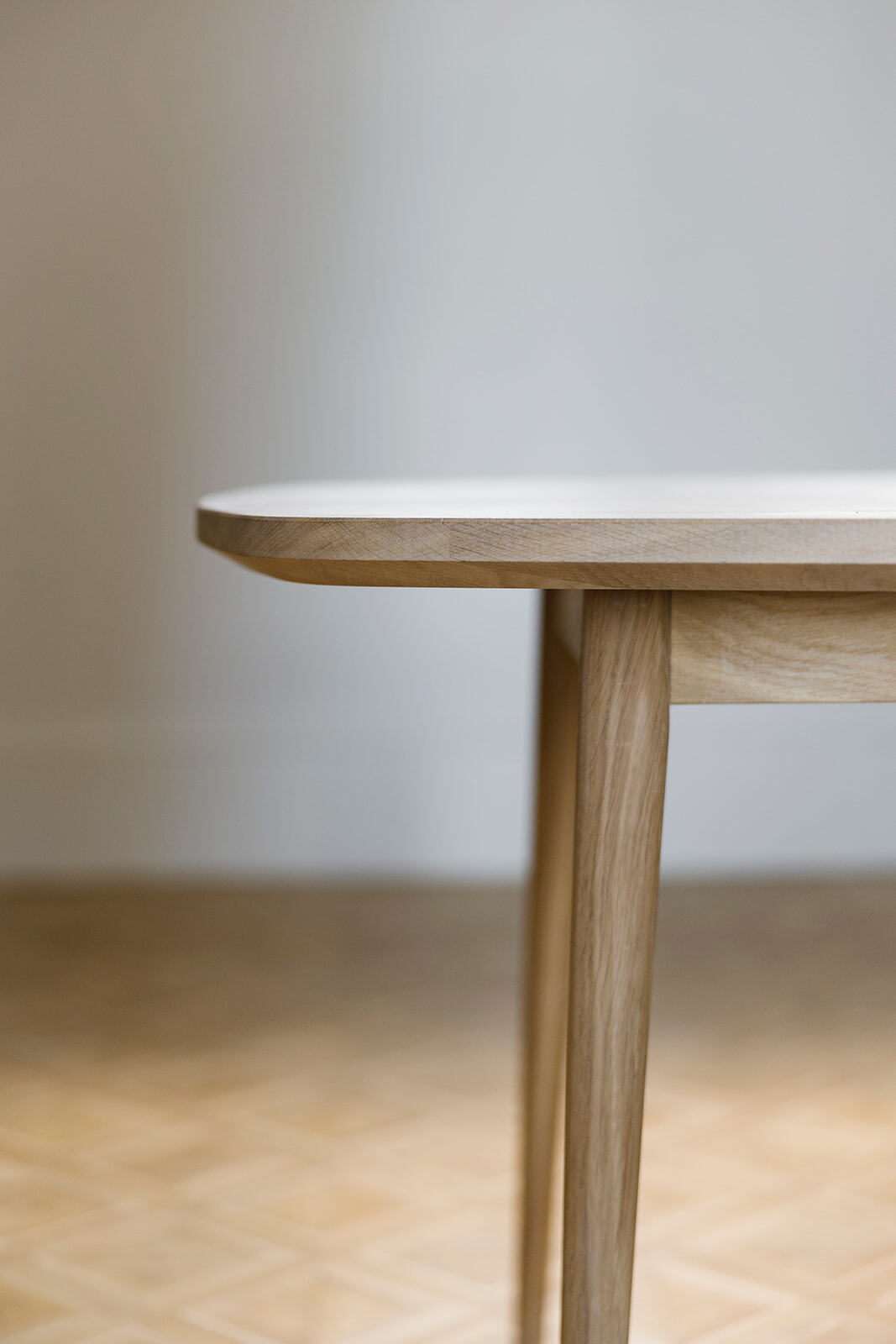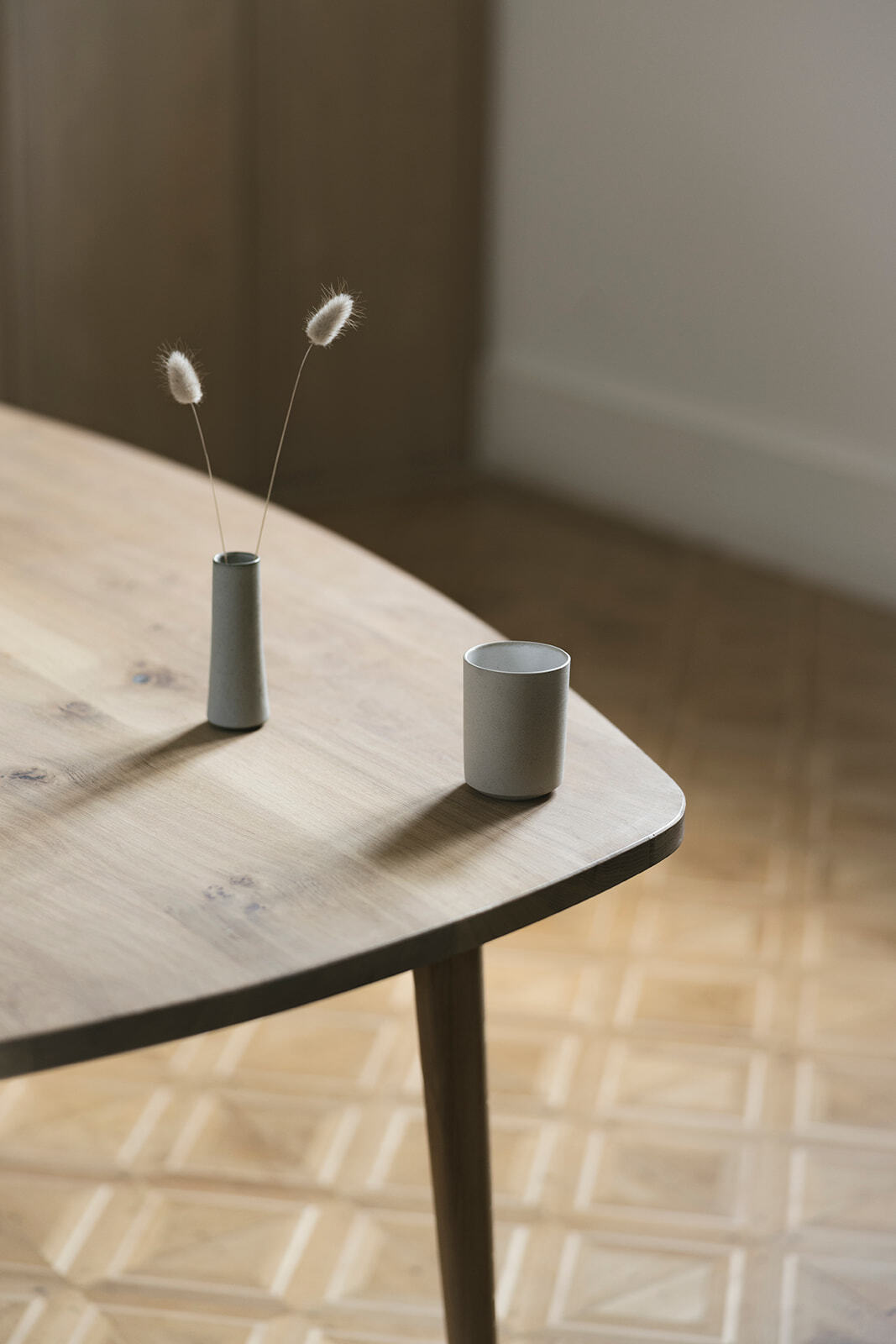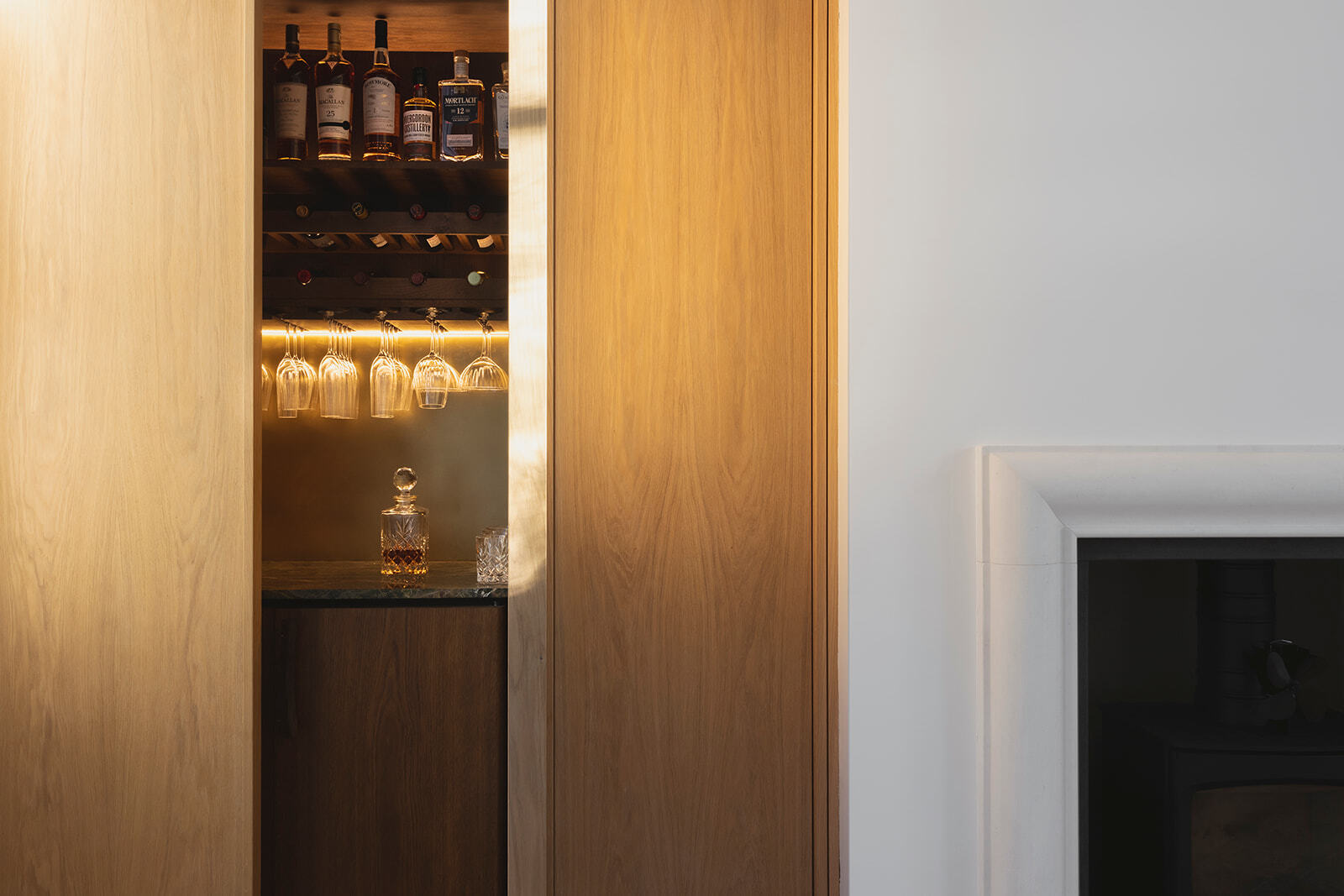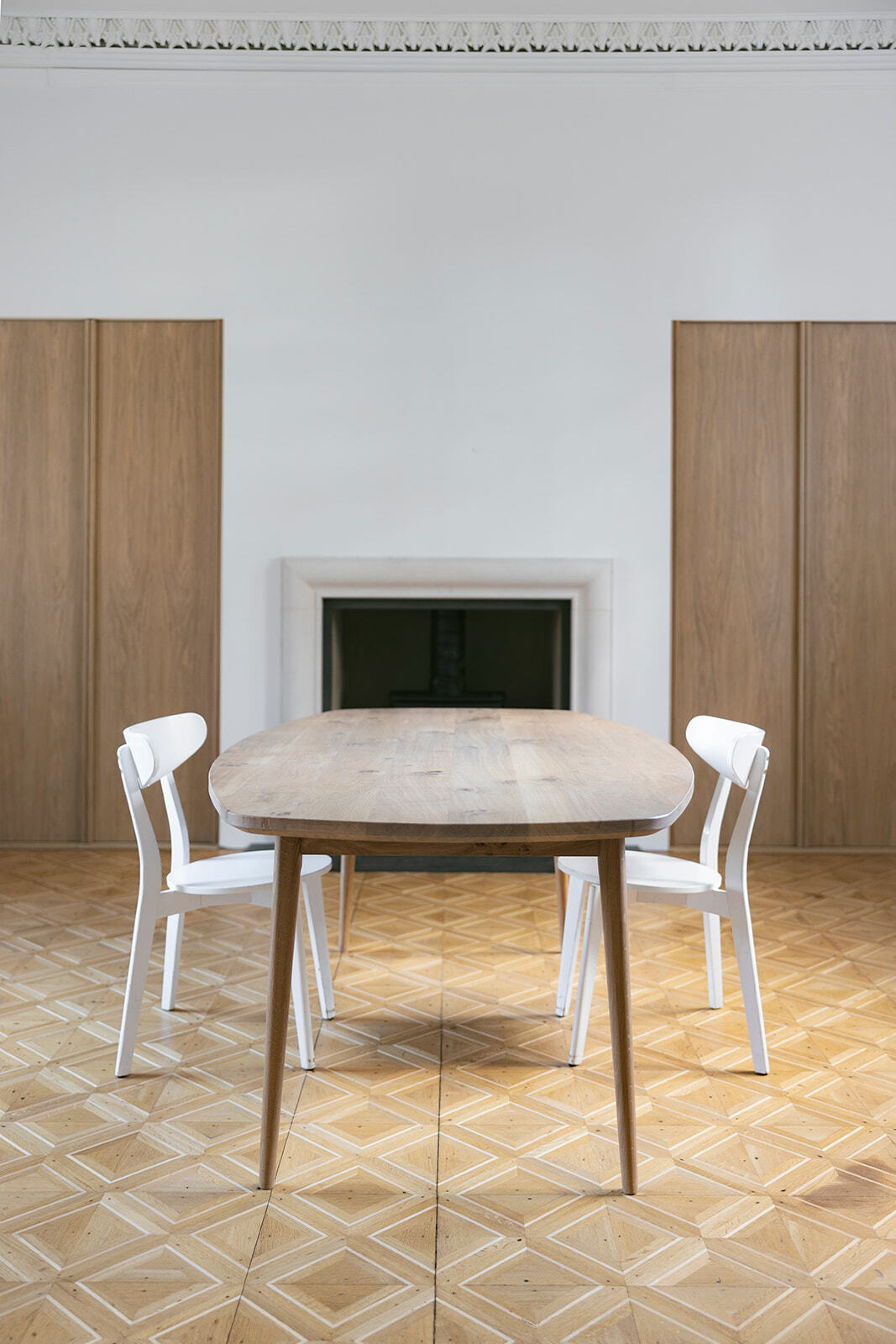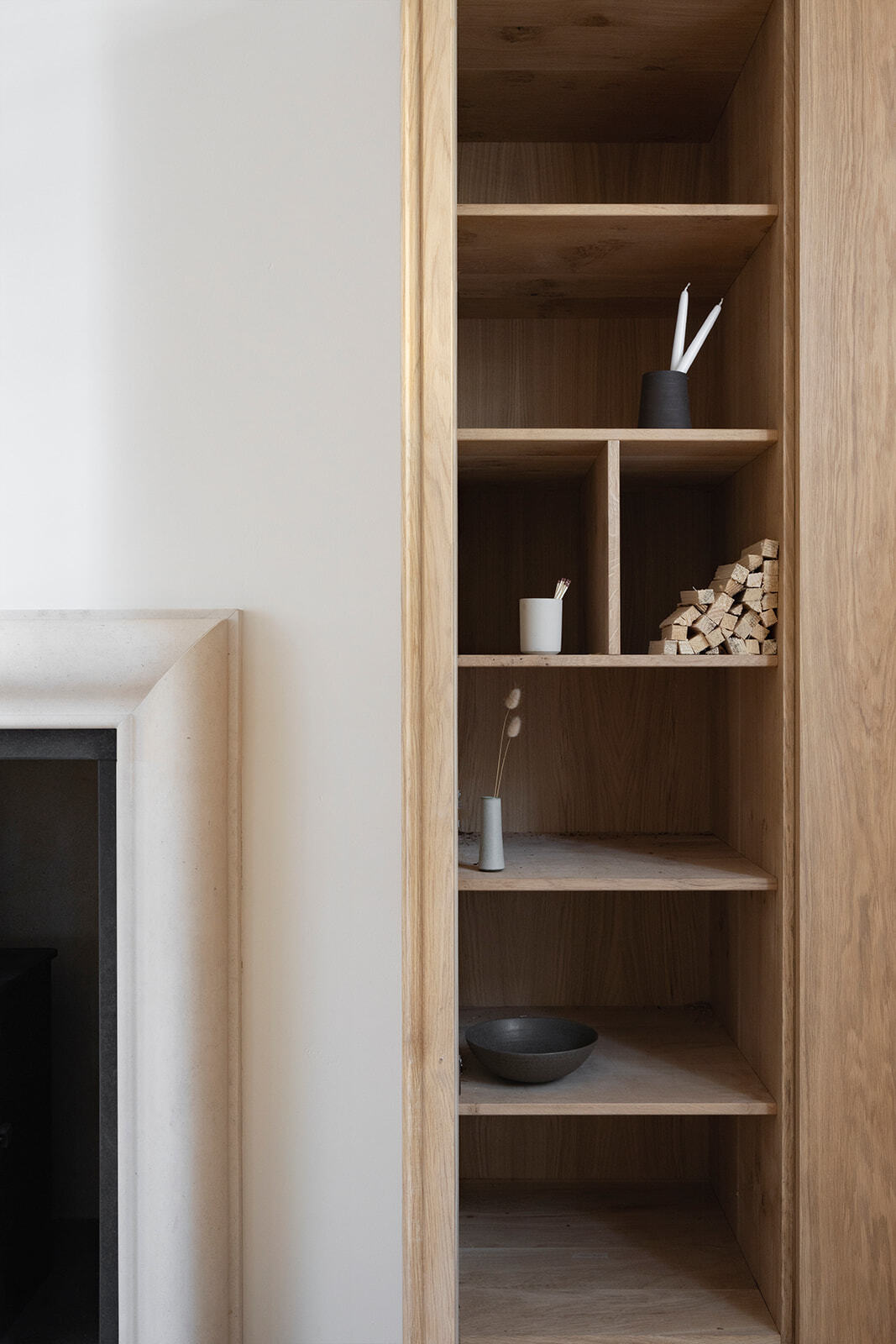 Location. Inverness, Scotland
Wood. Quarter Sawn Oak, Crown Cut Oak, Pippy Oak, Smoked Oak, Cleft Oak
Materials. Patina Brass, Leather Upholstery, Silestone Worktops, Rainforest Green Granite, Green Fenix Shelving
Finish. OSMO Raw, Clear Matte, Scrubbed + Scorched Oak
Details.
We always look forward to connecting and collaborating on new projects. Whether you're an architect, designer, self builder or homeowner – get in touch to explore the objects we can create together.